Looking through the library in the house I came across the autobiography In My Own Way by Alan Watts. I had previously read his seminal work The Way of Zen, published 1957. This book had opened my eyes to a spiritual practice outside the dogmatic confines of Christianity, where peace was obtained by emptying oneself and deconstructing the dualistic nature of our western culture. The ideas of Zen Buddhism had proven to be a great solace to me and provided a way of seeing through many inner conflicts. It was a spiritual practice which did not require belief in a god or a prophet, but a coming to terms with the world around us. It seemed strange to me that this ancient world religion was not based on a book with commandments positing an almighty, a heaven and a hell, but a series of lectures more akin to a philosophy of living. Of course these ideas, as propagated by Alan Watts, based principally on the work of D.T. Suzuki, are a form of Neo-Buddhism and bear little relation to the monastic practice of Buddhism in many eastern countries.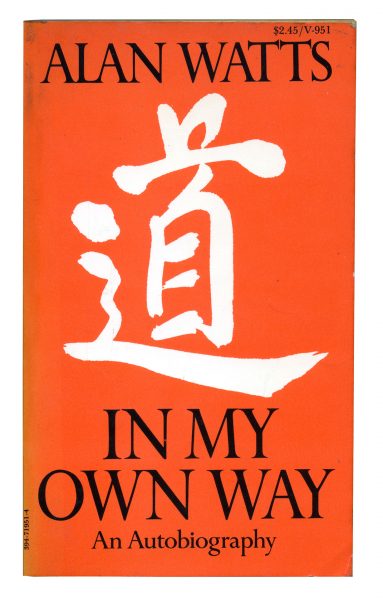 From the cleverly punning title on I wolfed down the biography in two days, it was a great story of how a modern and inspiring life could be lived outside the normal strictures. He was an autodidact who didn't go to university, but by the age of only 16 was the secretary of the London Buddhist Lodge and by the age of 21 in 1936 had met D.T. Suzuki and published his first book, The Spirit of Zen. Despite being ordained into the Anglican Church at the age of 30, he lived his life as poet or artist might, never becoming an actual Zen monk or a practicing academic, moving with the times and always enquiring into the reality of the metaphysical. By the 60s, after three marriages, he was living in California and became a figurehead for the counterculture. He was mentioned in Kerouac's The Dharma Bums (as Arthur Whane), wrote The Book on the Taboo against Knowing Who You Are and broadcast every Saturday on Berkley's KPFA radio station.
In My Own Way was the first book I read that really skewered Christianity in the same way that The God Delusion would many years later, and it was written by an insider. A list of his friends and acquaintances demonstrates his significance: the writers Aldous Huxley and Henry Miller; the poets Allen Ginsberg, Lawrence Ferlinghetti, Gary Snyder and Kenneth Rexroth; the philosophers Timothy Leary, Richard Alpert (aka Baba Ram Dass) and Carl Jung; and finally the musicians Ali Akbar Khan and John Cage. I would like to have lived his life (or invited them all to dinner).
* * *
Back in Brunswick we are at The Bowdoin again watching Peter Gallway and his band. This time I get a chance to listen properly to the music and I am very impressed, he is singing his own powerful songs and reminds me of a local Jackson Browne. Wow, if the music is this good here in the middle of nowhere, the country must be crawling with brilliant musicians! Well, doesn't work out like that, I just happened to be right place, right time, and he has a lot of fans here, so a grand evening is had by all. Driven back home lying down in the back of the Chevrolet pick-up truck, the trees fly overhead, framing the brilliant stars, they were sewn on.