So finally I have time for some domestic duties and send my brothers (born on the same day, different years) their birthday cards. At some point I must have got hold of some Canadian dollars, although I had travelled across most of Canada without any local currency.
A good friend of Arthur's I had also met in Morocco was called John. He was a tall skinny photographer with a straggly beard, quietly spoken and thoughtful. We met up in Chateau Lafayette again, I drank more sensibly this time, and he invited me to stay at his place in the country. On the drive out there we stopped to pick up some wine for the evening meal. We entered a concrete blockhouse that looked more like a jail, and inside were metal bars screening us off from the bottles on the shelves. It made the alcohol seem like distant treasure, and to buy it you had to precisely fill in a form and hand it to a man behind the bars. This was buying alcohol Canadian style, through a state run monopoly, and they had made it as unpleasant as possible. You could not actually look at what you were buying and they kept a very long list of "drunkards" and "Indians", who were banned from buying any alcohol, but it was better than the liquor passport which until the early 60s had recorded and limited all your purchases. This was another reminder of the Victorian attitudes hidden in the relaxed back to nature Canadian culture.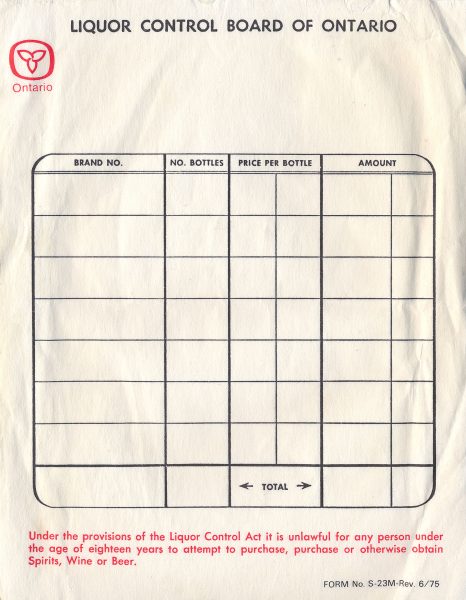 We arrived at an old sprawling farmstead and I met his partner Maggie, who cooked a heartwarming home-grown meal. Of great interest to me was his work as a photographer, and he proudly showed me round his home-built darkroom, letting me hang around in the red light as the images magically appeared in the developer. I was entranced by the whole process and quizzed him about all aspects of his work. He was the first real photographer I had met and his patience and dedication stayed with me, since a few years later I would be building my own darkroom. He showed me a portfolio of his monochrome images printed on thick Agfa paper, and I could see the thought and craft that had gone into making these prints –  all very inspiring.
The atmosphere in the house was very spiritual and homely, there was nothing loud there. The mood was reinforced by the music, Solo Concerts by Keith Jarrett on the German ECM label. Like Santana the previous evening I felt I was being welcomed home, for I also had this three-disc LP box set of solo improvised piano. For the last year I had been listening to a lot of ECM discs by Jan Garbarek, RalphTowner and Eberhard Weber and their sound was unique, as their initial marketing put it "the most beautiful sound next to silence". Manfred Eicher, the producer and founder, had taken jazz and improv music and remodelled it into a lyrical, minimalist and spiritual neo-classicism. His records were beautifully, sometimes clinically, produced but full respect was always given to the musician's vision. You learnt to trust and follow the label and there have been very few missteps over the years since the it's conception in 1969. His ambition and respect of the form can be heard on Solo Concerts, the power and originality of the music is worth putting in a lavish box: it sealed the label's reputation.
Started reading the great and bizarre novel The Tin Drum by Günter Grass.