So I had been on my best behaviour, trying to please my generous hosts without being too gay about it, if you follow me. This was because I was really keen to have a go at water skiing, although I knew it was more difficult than it looked. While I was a good swimmer, it usually took me a long time to get the hang of sporting activities and I wondered whether they would have the patience to teach me. Both John and Geoff had been water skiing before, so they knew the ropes, while I had only seen it on TV. I had been snow skiing quite a few times, but I wasn't sure if that was relevant. There was a lot of fuss getting the boat ready, as well as all the ropes and skis and life jackets to deal with. Just to get everything in position and lined up, that is the boat, the ropes, the skis and then the skier sitting on his backside in the water, skis aloft, holding the tow rope took a long time. Then you must hold onto the rope for dear life as the boat zooms away and suddenly you are jerked upright and hopefully skiing.
After a few goes both John and Geoff had been up and skiing. David was doing all the driving, organising and instructing, so was being kept very busy. It took me several goes and I made all the classic mistakes, dropping the rope, going head over heels straight into the water and losing my skis. At one point I nearly gave up, feeling I was wasting their time and abusing their hospitality, but they were patient with me and eventually I made it up and the sheer exhilaration of being pulled through the water at 25mph was captivating. Going in a straight line was easy, trying to negotiate a curve was a bit trickier, probably need another lesson for that. I was thrilled and grateful for the experience.
The sun is shining and the pale roof comes down on the 1956 Thunderbird Convertible, we all squeeze onto the front bench seat, since the car is nominally a 2 seater, and we sashay around Lakeport feeling like heroes. It's not quite the Riviera, but we don't care, we have been waterskiing.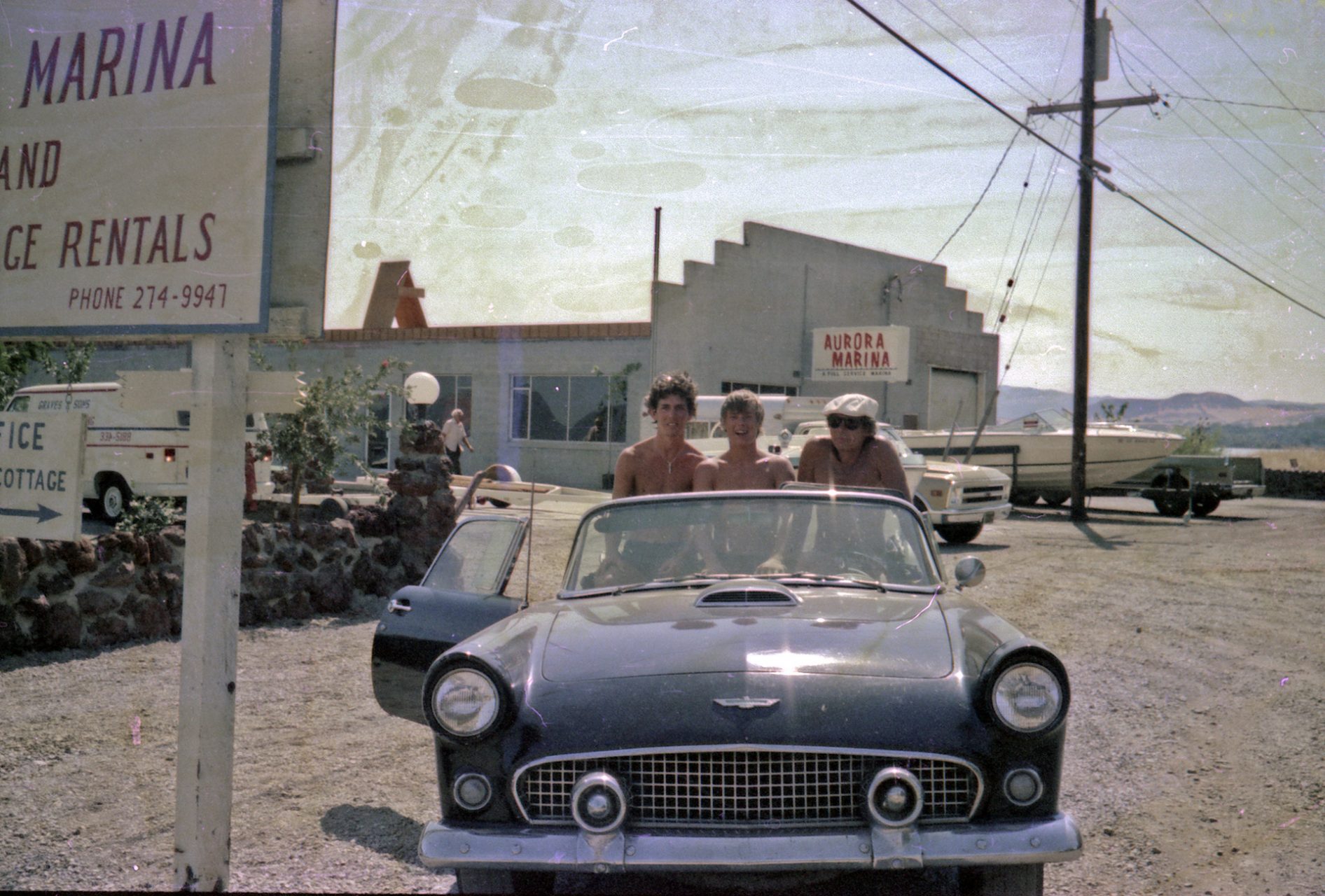 All feeling a bit exhausted we have a quieter evening, David is busy on the phone and the rest of us play Yahtzee, a 5 dice poker-based game. I retire early to the RV to catch up on some reading and to avoid any shenanigans.