Finally do some proper swimming in the waves. Some friends of Doug's took me out to Stinson Beach, north of the rocky cove at Muir Beach, and there was the real deal, a two and a half mile long sandy beach with the surf crashing in, it seemed like a surfer's paradise. My friends were more beach bums than surfers, but I tried to tell them we could all go bodysurfing. This was not popular, if you wanted to go in the sea you apparently needed to hire a surfboard. They had never heard of bodysurfing and were not convinced it was possible, but I knew otherwise. For several years my brother and I had spent our summers on the French Atlantic coast and learnt to bodysurf, often in quite dangerous conditions.
My version of bodysurfing entailed finding a crashing wave, which you desperately try to keep up with until it breaks and then carries you on your chest, hands outstretched, as far as you want, hopefully right up to the beach. You are much closer to the shore than a board surfer, but the joy of a free and fast ride can be exhilarating. The main danger is mis-timing the wave, you mustn't be bundled over by it , but ahead or on top of it. Hence you must learn to dive through the hollow of the wave if it crashes too soon, always hoping there isn't another one right behind it. So I went out there and did my thing, catching a good couple of waves, was soon enough exhausted and had a contented doze on the beach. It turns out there is a World Bodysurfing Championship, but it only started in 1977, so as far as I am concerned it is still my invention. It didn't catch on that day at Stinson Beach though.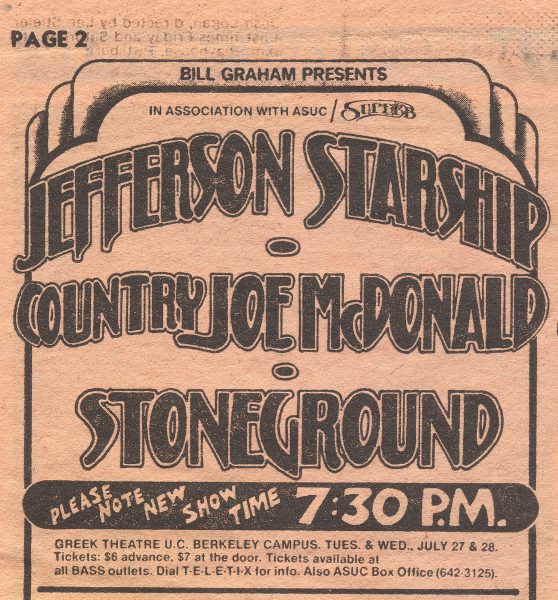 Over the Bay Bridge on the bus to Berkeley to catch the other half of the legendary SF 60s music scene, Jefferson Airplane. They were more dynamic than the Grateful Dead and with Grace Slick in control much sexier. The venue was another Greek Theatre, modelled on the original at Epidaurus, and part of the University of California Berkeley. When I arrived the place was already packed with relaxed students and all the seats were taken, so I lay down on the grassy apron behind the bowl of the arena. It turned out, after some confusion, that the concert had started hours ago and so I had missed Country Joe and The Fish, much to my annoyance. Onstage were Stoneground, who I had never heard of, probably because they never had a hit despite making 6 albums. They were a sprawling local community blues rock band, in fact so communal that by this time most of the original members had left.
Bang on time at 7.30, if you didn't want to see the rest of the concert, Grace Slick, Paul Kantner and Marty Balin arrived on stage and proceeded to play tracks from their platinum album Red Octopus. They were now called Jefferson Starship and metamorphosing from their activist experimental roots into an FM friendly AOR rock band. Fast Buck Freddie was fine to start with, but the concert soon veered off track when Marty Balin sang a particularly saccharine Beach Boys-style track called Cruisin' instead of his big hit Miracles. We did get a perfunctory cover of the Airplane classic Somebody To Love, but this was followed by an erotic slow blues called Better Lying Down from a Grace Slick solo album and that was it. Grace, with a strange bouffant hairdo and large quilted jacket, was at her raunchiest and rudest, but it all seemed forced, which continued for the encore. Having just sung a ballad about oral sex, the encore was a version of the 60s classic White Rabbit with the key line "Feed your Head" changed to "Give some Head". Hilarious to some, but it made me feel sad – the counterculture had sold out to the porn industry.
Have You Seen The Stars Tonite I mused… unfortunately not. The concert had duly finished at dusk, so I resolved to drown my sorrows by visiting a pub. This was easier said than done, since most American bars had a distinctly different ambience from the British pub. The best place I had spotted on my walkabouts was called Jacques Daniels near where I was staying and it claimed to be a speakeasy since 1910. Like a pub it had colourful decor with a few interesting knick-knacks, but there the resemblance ended. The dark bar was lined with stools, you sat at one and drank. There was no buzz of conversation, just lonely morose men sitting and drinking. In a few booths there were groups of people, but you couldn't join them without imposing. Everyone was much older and there was none of the drunken amiability normally found in a British pub. On the bar stool the accepted opinion was that life was a bitch, nothing more to say on the matter, so I took my medicine and went back home. Ironically Jacques Daniels is now called the Chug Pub and sells Guinness and Newcastle Brown Ale. I must have been a bit early for the good times.