Michigan seems like a dream to me now
It took me four days to hitchhike from Saginaw
I've gone to look for America
~ America by Paul Simon
So I went to look for America at Disneyland and boy did I find it. I went in as a happy cynic expecting to laugh at the chintz and commerciality of it all, the idea that some ancient cartoon creations could bring me round to their point of view regarding having a good time seemed ridiculous. I was swept away by the scale of this fairground, the sheer variation of the experiences, all conducted with full-on bonhomie.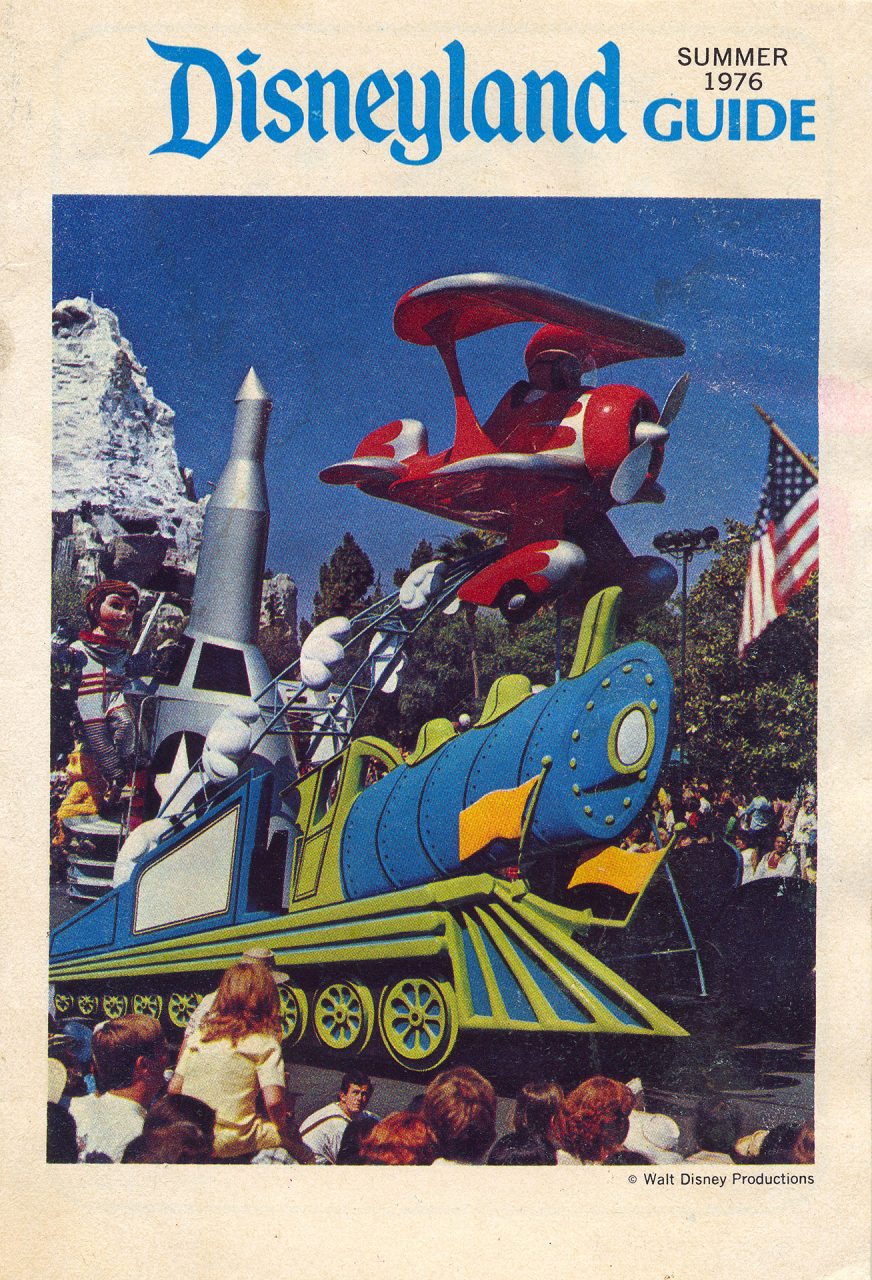 It was a glorious sunny day, and as I walked across the huge parking lot I saw my first ever stretch limo, a common sight now in the UK, but then it summed up the bigger is better ethos of the USA, and it looked cool. You bought a booklet of tickets at the booth, so no worries about money and the cost of rides when inside. The main problem was choosing which rides to queue for, there were so many and which were the good ones? I had bought The Deluxe 15 Ticket Book for $7.50 so I had plenty of options.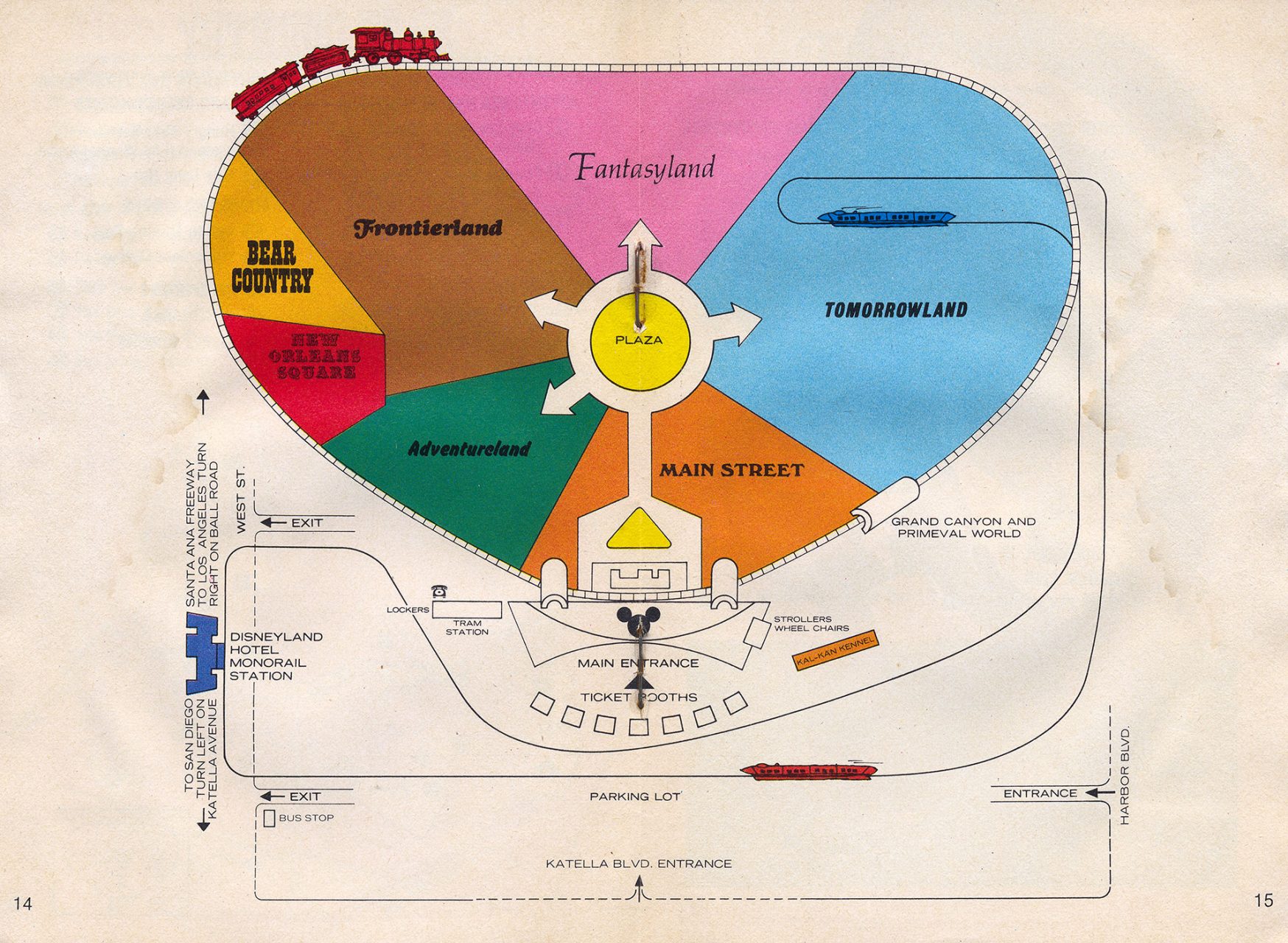 You are cleverly cocooned in the park, which by sleight of hand never seems to end, yet includes lakes, parks, shops, museums, cinemas like a self contained city of pleasure. I didn't find the pub though, it hardly seemed necessary. This is a constructed fantasy, but is spacious enough not to be overbearing and there are events and animateurs at every turn to entertain you. For the big rides there were lengthy queues, but signs told you how long you had to wait and the throughput was phenomenal. Every ride was different and you were transported by a great range of automated systems including electric walkways, boats, gondolas, trains, monorails and of course spacecraft. While lacking some of the nausea-inducing rides of modern theme parks or even a traditional roller coaster, the physical aspects of the rides were always fascinating. The most exciting ride was the Matterhorn Bobsleds, which did resemble a traditional roller coaster, except here you passed through a mountain with waterfalls and an abominable snowman, so in fact much better than the rickety wooden cyclone roller coaster I was used to in Southport.
In Southport funfair we had a Haunted House with about 5 scary things, the Haunted Mansions in Disneyland has an electric walkway then buggies taking you past 999 ghosts, so every second is filled with ridiculous sights never to be seen again. Walls close in, lights go out, candelabras float by, cemeteries awaken, never mind all the ghosts. Queues for Pirates of the Caribbean were long but we sailed off into a giant and ludicrous spectacular. The atmospheric scenes created for this boat ride would, in a strange inversion of usual practice, become the inspiration for a huge film franchise. The manipulation of our imaginations, aided by being afloat and in the dark, was total and we were soon witnessing sea battles, burning towns and a lot of crazy pirates. This was the last ride Walt Disney himself worked on, before his death in 1967. It is known as a Dark Ride and you can vividly sense his quixotic, slightly twisted sense of humour, evident in his best movies such as Dumbo and Pinocchio. He knows how to scare people and then make it better.

The technical aspects of these rides were also a source of fascination, peopled as they were by mainly animatronic simulacrums. This technique was first used at The Enchanted Tiki Room in 1963, with animated birds and flowers, and the show I saw there was charming and captivating. You felt you were witnessing technology in its latest and most powerful incarnation, even though these were often old ideas well executed. The supposed apogee of this was Great Moments with Mr Lincoln, in which the audio-animatronic simulacrum gave a speech as if the real person in front of us at a theatre. Despite the set dressing, in the continuous bright lights of the stage this was rather less than convincing, he may have been a stiff man, but was he really that wooden? Though impressive Mr Lincoln hardly moved, he already seemed out of date when seen up close. Meanwhile over in Tomorrowland my future was waiting at the Circle-Vision 360º, a cinema with a screen running in a huge band, well above head height, round the circular theatre. Standing here you watched a panoramic film leaning on arm rests, there were no seats, so you could turn or walk around. The film was an already dated American documentary, the nine projectors felt like they had been running for years, yet I was entranced and later spent many years making 360º panoramas for VR usage. This was the first time I saw a living breathing panorama, thank you Disneyland for that.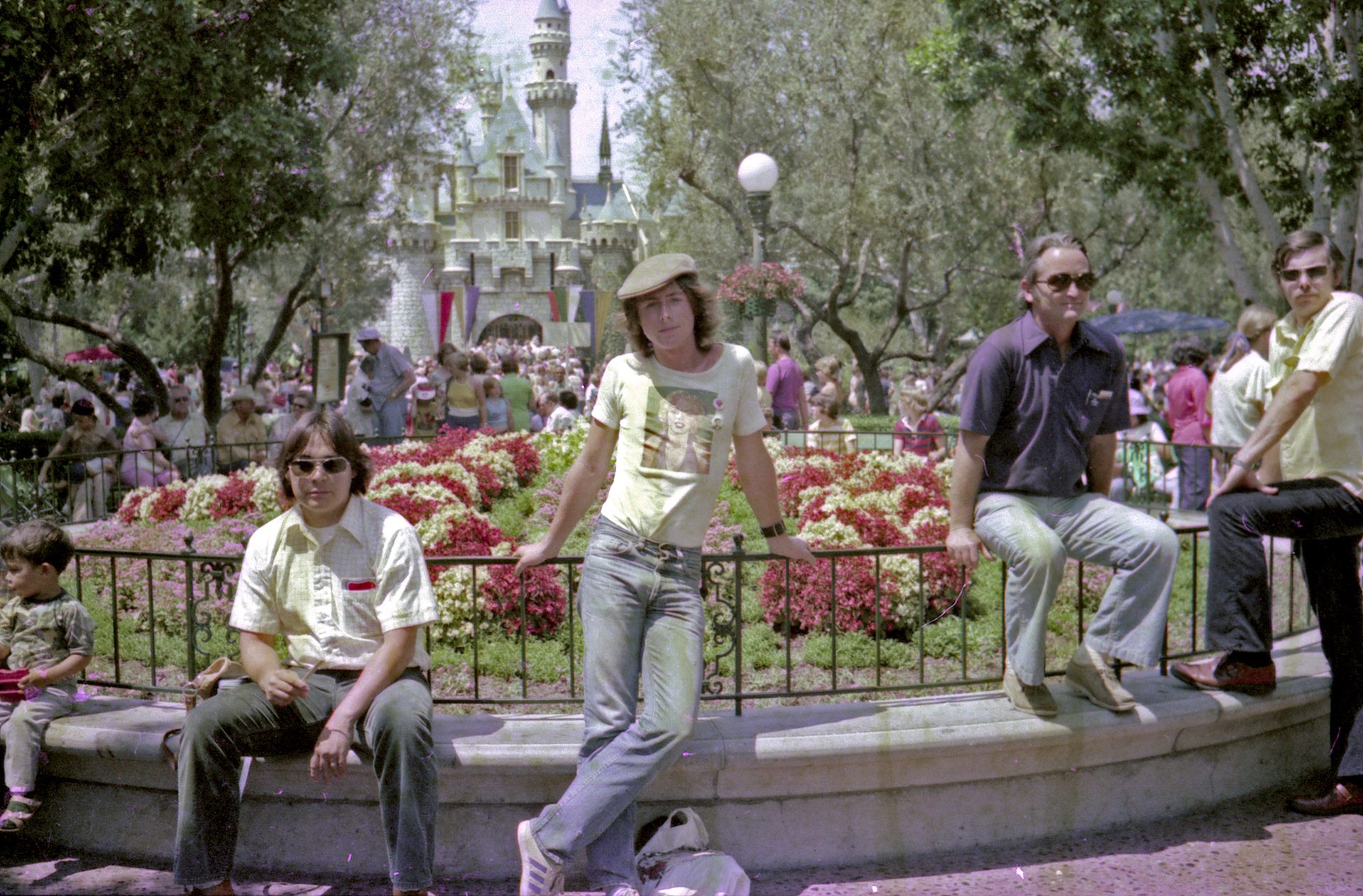 Now I needed a rest so I bought a frozen banana (never seen one since) and enjoyed some classic silent movies in the Main Street Cinema. I was wearing my Buster Keaton badge after all. At 3pm it was time for America on Parade, which according to my Disneyland guide is a "Bicentennial parade saluting our nation's 200th birthday in a moving panorama of mirth and merriment." It wasn't that funny, but the gusto with which it was performed proved intoxicating.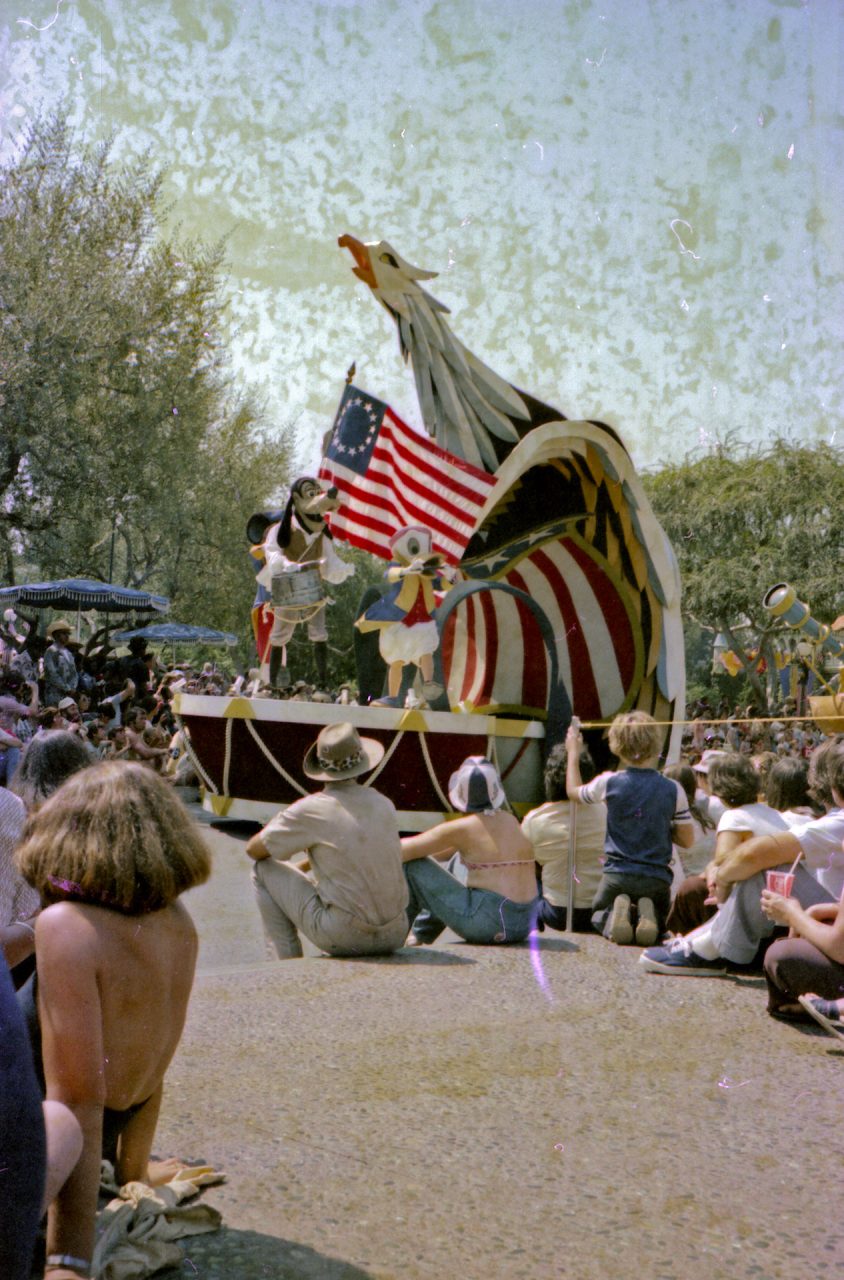 Then a trip on a Mississippi steamboat, the Mark Twain, which ran on an underwater rail in just 8 feet of water, to be welcomed back by the 20 piece All American College Band. I was warming to all this slushy American stuff.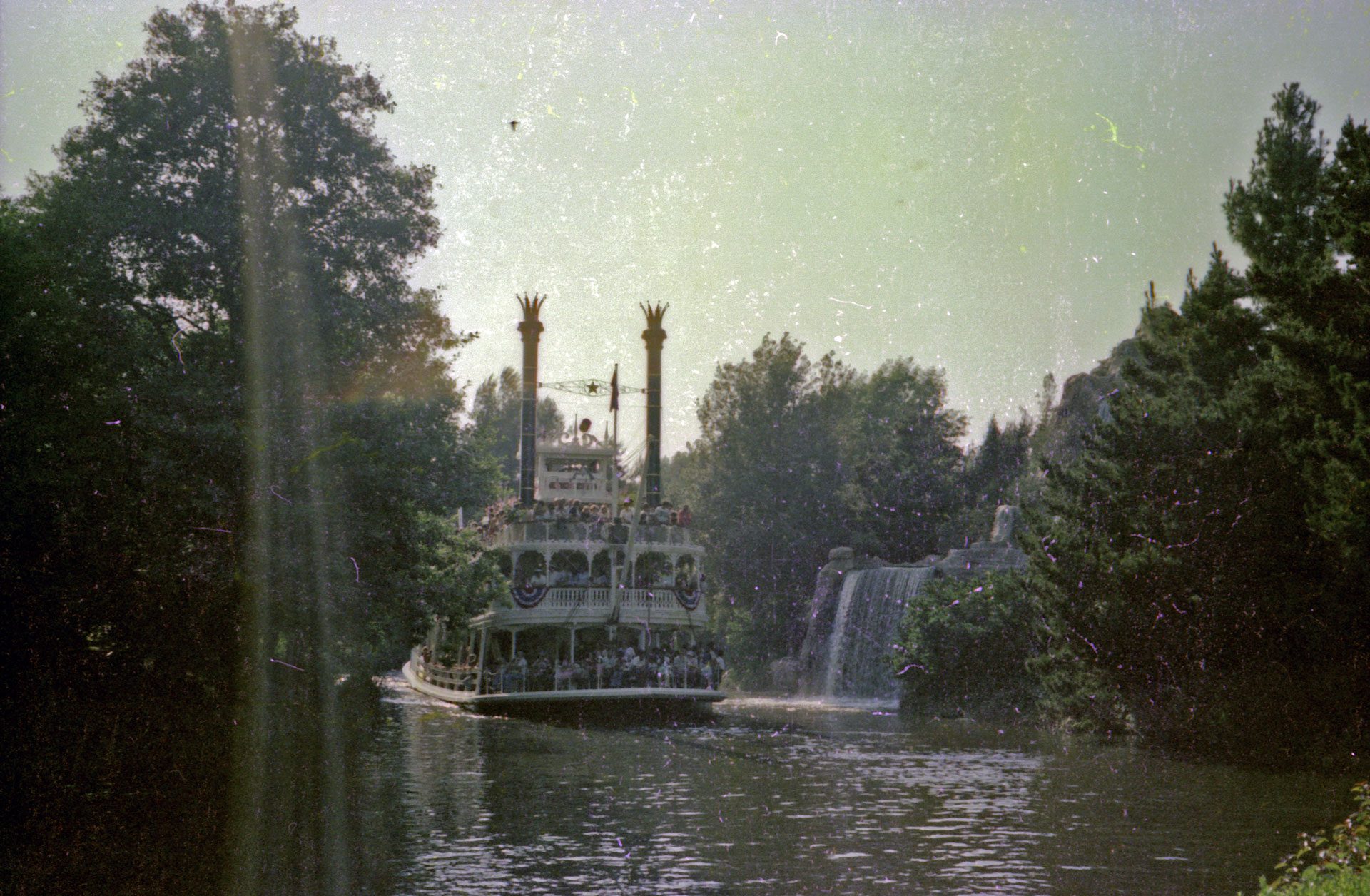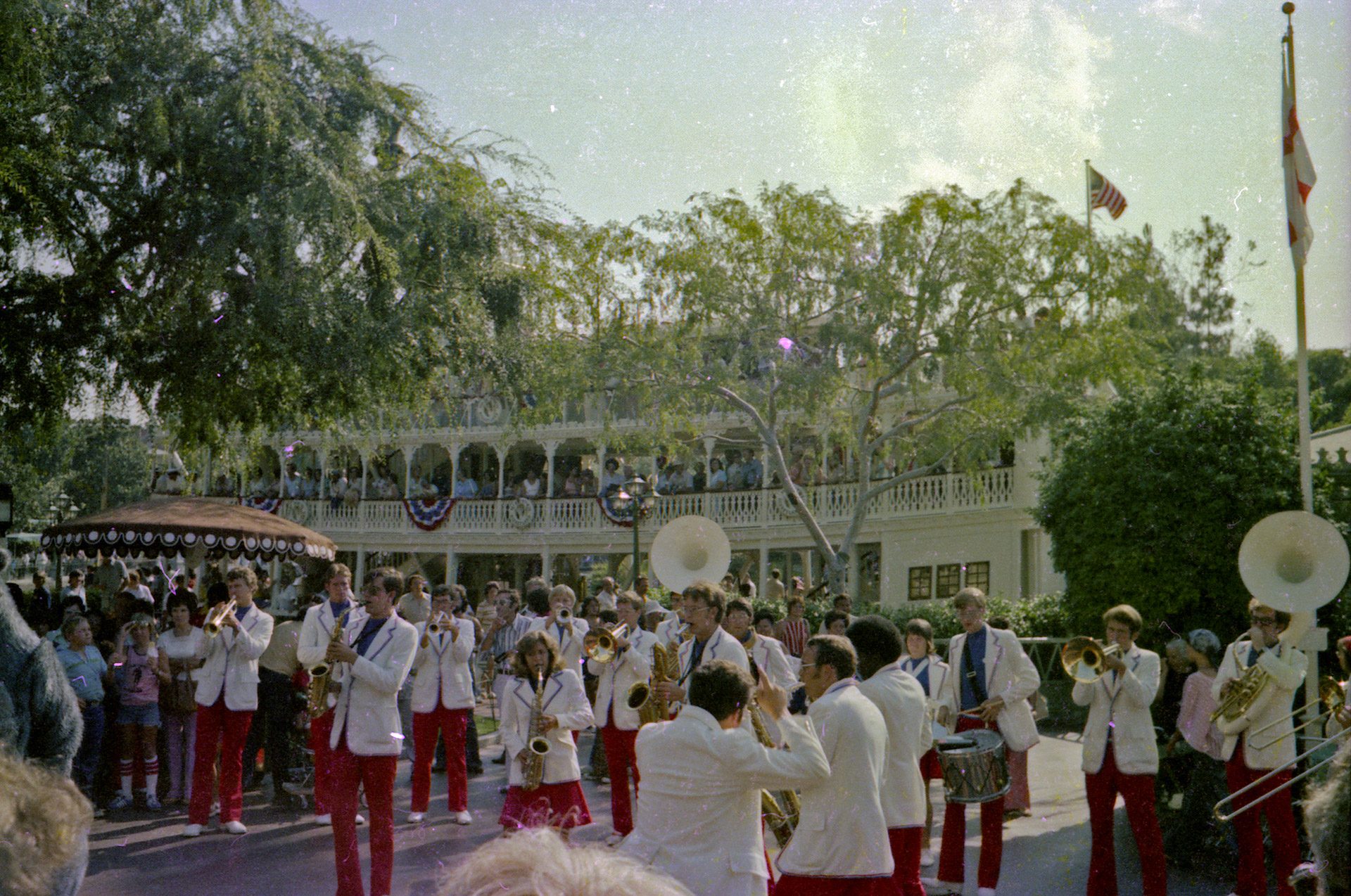 As the evening drew in I did go looking for a beer, not knowing that Walt had banned alcohol. Soon enough I was distracted by the Fantasy in the Sky a "blazing shower of red, white and blue fireworks." Although I kinda knew they did this every night, it felt impossible they would repeat this wanton spectacular, once again they were making me feel special. I bought the T-Shirt and the Mickey Mouse badge. I left Disneyland with a renewed respect for this version of the American Dream, it had worked its magic and converted me. In the 90s I did take my kids there and "the happiest place on Earth" was just as good.