I was aged 21 and still a virgin. This had been an issue for me, but I was over worrying about it for the time being. This journey was about discovery and survival, not sex. My own sexuality had never really been in doubt; I dreamed of women, they were the source of mystery, allure and adventure. You may have noticed several girls' names randomly popping up in the diary. These would be women I fancied at a distance, I will have found out their name but I probably hardly spoke to them. I was a shy man and found it difficult to approach women. Of course there had been several girlfriends, one had broken my young heart, there had been much kissing, some groping and a little sleeping, but no sex as such. I had turned down several good offers from both men and women, I felt it had to feel right, I had to be "in love", sex was romantic or not at all. Naturally I had lied about my virginity to my peers, it seemed the only acceptable thing to do, and I hadn't found it difficult. My general impression was that many men of my age lied or exaggerated when talking about their sexuality, but most simply just didn't want to talk about it. In one sense this whole adventure was a form of running away from any romantic entanglements, they were not on my agenda while I was travelling. In the past year I'd had a very close relationship with an older man of a completely non sexual nature. We had discussed the situation (we discussed everything), I knew he loved me and I loved him too in my own way, but the idea of a sexual relationship did not feel right to either of us. We had decided we were "pudique" which translates badly as modest or bashful, and I still feel that way. I should say now that the issues mentioned here were later all resolved in a good way. I am glad I was patient.
The disclosures above arise because I received some sexual offers during my time in Clearlake, of which more later. Meanwhile it turned out my actor friends were not staying in their RV, but in a splendid beach house owned by a friend. The house overlooked the lake, with a large wooden balcony and spacious rooms. After finding a hidden key we moved in and they proceeded to play the musical Oklahoma full blast on the stereo, I had never heard it. I explained I wasn't a big musical fan, so they put on some soul music and I danced around the living room, skidding on the wooden floor and showing off my moves. To cool off we went for a swim, followed by water melon and beers. All thoughts of heading on up the road were put on hold, I was having a good time!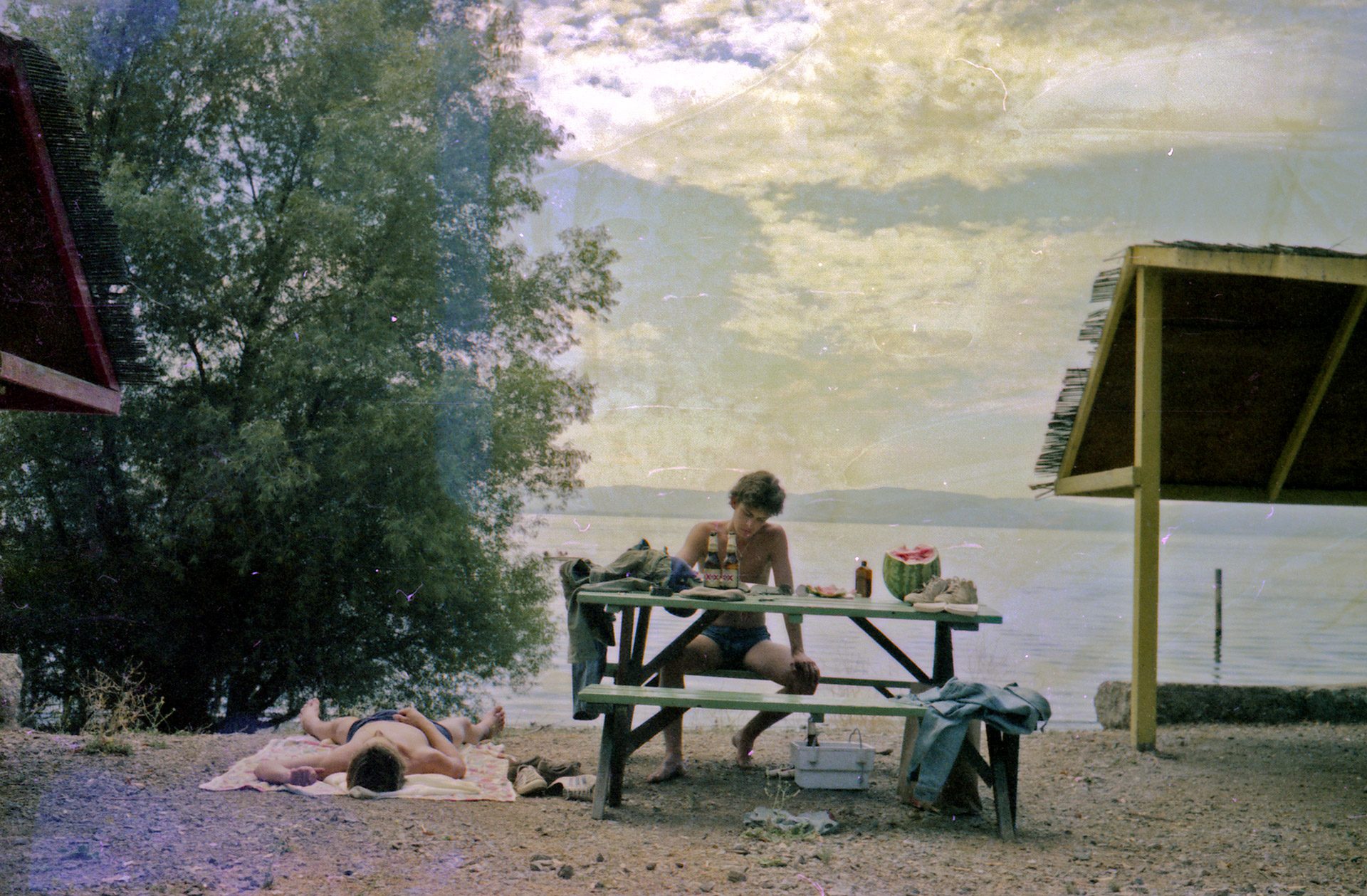 In the afternoon their friend David, the house owner, arrived in his Ford Thunderbird Convertible. He was an older man in his 40s who worked in Hollywood as a producer, but he had a very relaxed sense of Californian repartee and wanted to be one of the boys. David had brought some steaks and beers so we all tucked into a satisfying meal . As we chatted after the meal the sexual tension escalated, in a friendly way. It was evident that my host was gay, and a few testing questions were put my way regarding sleeping arrangements, which I deflected as deftly as possible. As the outsider I said I would sleep in the RV, which suited me and meant I should avoid any late night visits. Nevertheless I was invited to go water skiing the following day.
To further my musical aka gay education we watched the 1961 movie West Side Story. Now this was a musical I could understand and admire. I was still figuring out why gay people loved musicals (it's the romance, darling), but West Side Story swept me away with its incisive story, daring choreography and Leonard Bernstein's dynamic jazzy soundtrack.