Hitched straight down Sunset Boulevard and then to Santa Monica State Beach. Somehow it was very relaxing down there and seemed to avoid all the bustle of LA. The beach was quiet and expansive, totally unlike the fairground atmosphere of somewhere like Brighton. I love swimming in the sea, there is an element of danger and reality not found in a swimming pool. In fact I have been very lucky, having swum in some very dangerous places and just come out unscathed. That day the sea was calm, although I prefer some waves if possible, despite not being a surfer. Once you are comfortably far out the sense of solitude and vulnerability is quite strong and you can think your own thoughts. Of course nobody in the world knew I was there.
I believe the plan had been to then walk down to Venice Beach Boardwalk and check out the bodybuilders at Muscle Beach, but I have a feeling it was too hot, I didn't know how far it was, and I never got there. It is confusing because 20 years later, under very different circumstances, I certainly was there so there is a good chance of false memories intervening. In any event, Venice Beach is well worth a visit.
In the afternoon Mr. West took me off to Greystone Mansion up in Beverley Hills. This is a Tudor style 55 bedroom house set in formal gardens and at the time was the home of the American Film Institute, which was the reason for our visit. The house has been used as a location in many famous movies and certainly looked impressive. At this moment it was likely that David Lynch was in the cellar, where he had lived, filming and editing Eraserhead. If only I had known, although I didn't see this groundbreaking film until several years later back at The Scala in Tottenham Street, London. Mr. West was constantly networking and pointing out nearly famous actors I had never heard of, but I was excited to be there and feel as if I was in the heart of Hollywood. Even more impressive to me at the time was a sleek looking twin-turboprop plane on the front lawn, a Fairchild Metroliner. When I asked how on earth it had got there (no runway in sight) the answer was "That's the movies".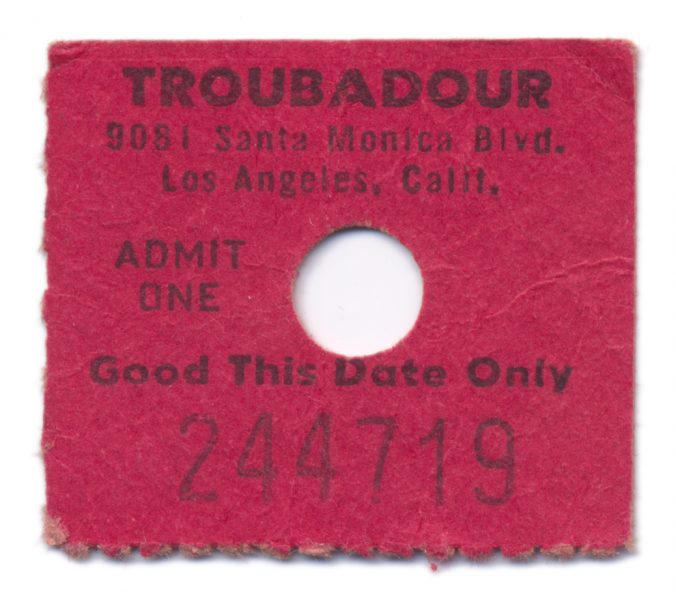 In the evening I went out on the town to see some music at the famous Troubadour Club on Santa Monica Boulevard. Maaan everyone has played here and some people, like Elton John and Tom Waits, were discovered here. At the time it was laid out like a supper club with long tables all red and black, there was a balcony, but I ended up downstairs with a good seat. There was however a weird drinks cover charge system and no price list, so for at least half the show I was petrified of being landed with a huge bill for my beer.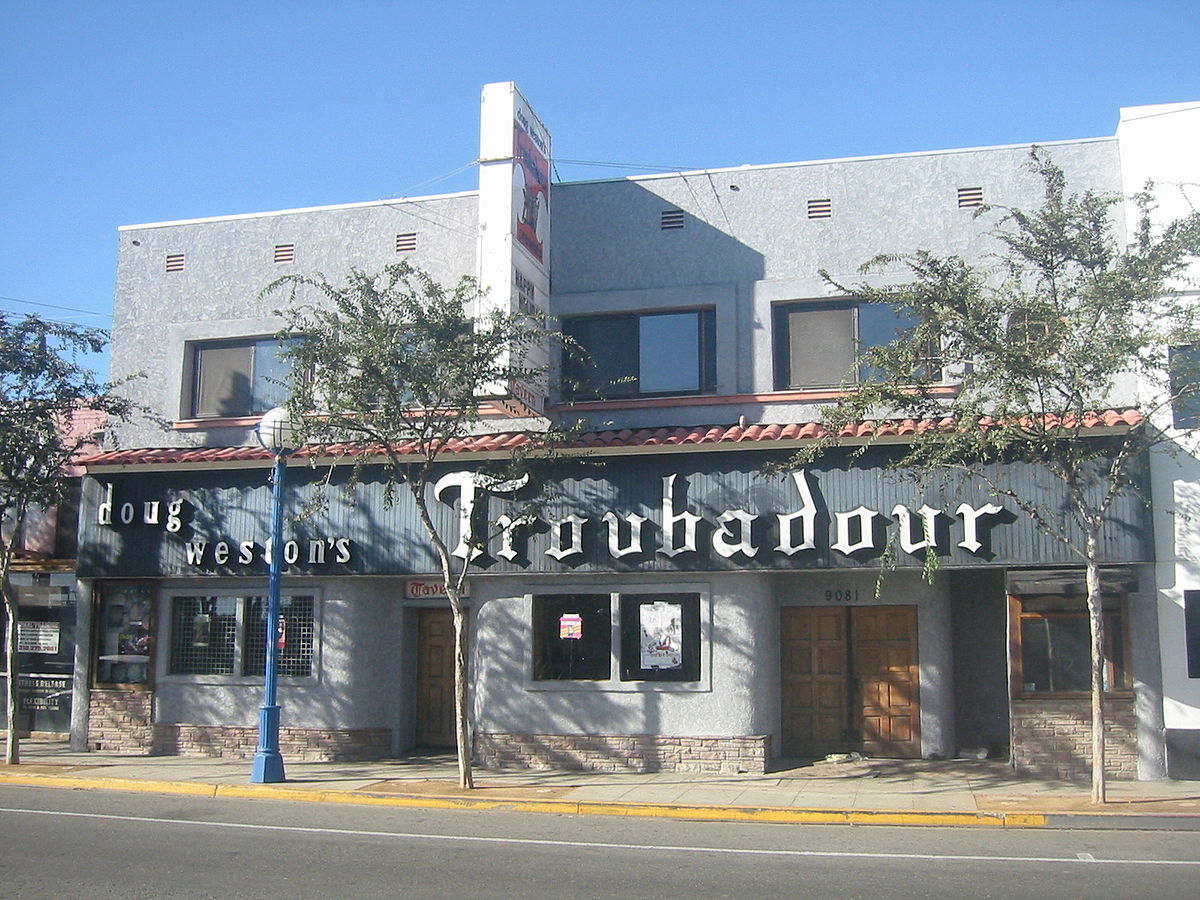 My visit started well when the big black doorman recognised the UK jazz blues shouter George Melly on my badge, much to my surprise. He said he had appeared at the club recently and gone down well; all I could think of was being chased round my neighbour's kitchen table by him. Don't worry, he was just letting off steam after playing a very good gig, it was all fine.
I was there to see John David Souther, a singer songwriter signed to Asylum Records, home of The Eagles. This wasn't my first choice for live music, but there were some Eagles in attendance and many other members of the West Coast country-rock fraternity. The music drifted by very professionally, the atmosphere appreciative, he was joined by Glenn Frey and other guests and it perked up a bit, an enjoyable evening. Not quite as good as seeing the actual Eagles though.
Still the best was yet come. As I went out of the double doors, which open straight out onto the street, there was Tom Waits with a bagged beer bottle in hand, fag in mouth, leaning on a dusty old Cadillac. I acknowledged him and slunk back into the rounded edge of the doorway to watch 20 minutes of crazy drunken street theatre play out right in front of me. Someone gave me a swig of beer, I just pretended I was waiting for a cab. Tom was in full character (or maybe it is just him) shouting out to all the players, leering at the women, cursing out the times in his amazing guttural drawl. Soon he had a little coterie around him, hanging on his every word, evading the flailing arms. It was a vision ready for Guy Peellaert's Rock Dreams, I remember it in those neon tones.
I have since discovered Tom Waits was always hanging round the Troubadour like this, especially if label mates were playing, and I found this photo with Tom Waits and Paul Body the doorman, which is very similar to what I saw that night.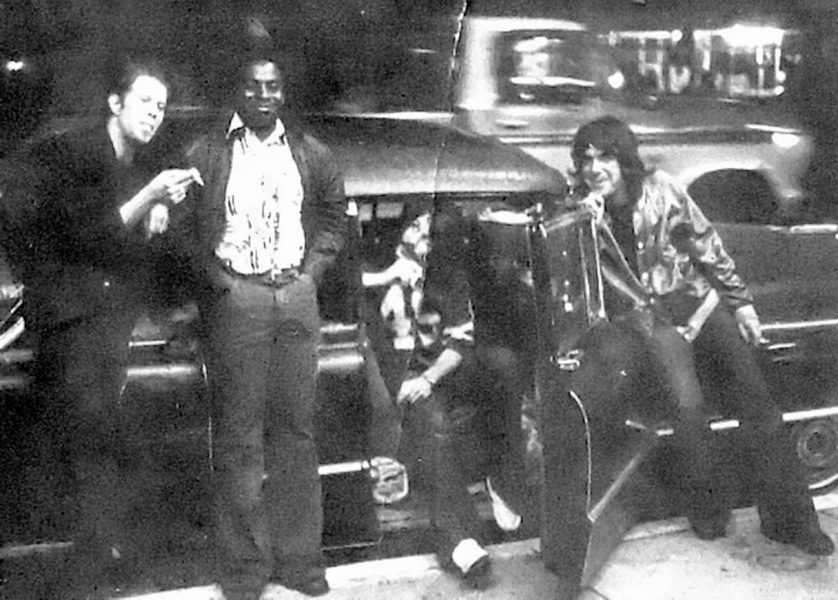 As I say in my diary this was a real club, a truly memorable night that has lingered in my imagination for 40 years. A few years ago I saw J. D. Souther at Dingwalls, a similar size venue in Camden, London. He put on another professional show, but even he seemed saddened he wasn't one of The Eagles.