First a bit of recovery after the night before and then everyone in the flat went out, to work or play. I availed myself of the facilities and went for a doze on the waterbed. Yes it was a thick plastic lilo filled with a lot of warm water, and I had never seen one in the UK. This version had a thick and sturdy wooden frame, already rather off-putting. The waterbed was a legendary item sold with the slogan "Two things are better on a waterbed. One of them is sleep." I can't vouch for the other thing, but I found it profoundly uncomfortable, any movement causing a wave-like reaction, and then you had to settle into a rock-like impression. The stories about waterbed disasters were funny though, falling through ceilings due to their weight or inundating houses when they sprang a leak. There was a strict no smoking rule in this bedroom.
Dawdled out and visited another record shop confusingly called Record Factory, then wandered over to the Japanese Tea House and Garden in Golden Gate Park. I did not have any tea, but the gardens are themselves balm for the soul, set on a little hillock with crooked paths, little bridges over streams, Buddhas and temples. Every plant looks manicured, like full-size bonsai.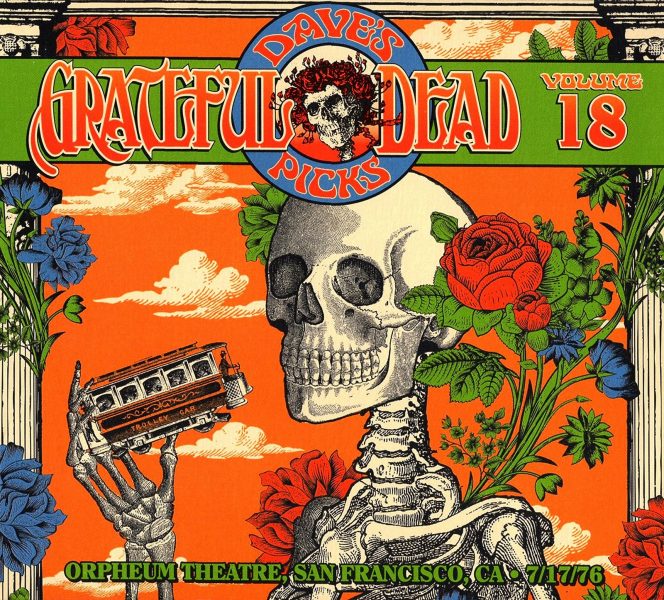 All week the Grateful Dead had been playing the Orpheum Theatre in Market Street. It was all people were talking about and several of Dave's friends had tickets. However it had long been sold out and tickets were like gold dust. The Orpheum held only just over two thousand people and I was advised I could never afford the price of a scalped ticket and not to bother trying. The reports of the show sounded great with the Dead playing an open and adventurous set lasting over three hours, and there was dancing in the aisles. The next best thing was a Grateful Dead party down in Ghirardelli Square, near Fisherman's Wharf. The square itself was a repurposed and renovated brick chocolate factory with great views over the Bay, with a posh but bohemian atmosphere. I arrived at a smart cocktail bar on the upper balcony blaring out the actual concert live and was presented with a free Tequila Sunrise, mmm nice. We then retired to a local bar for beers, Schlitz again, and they were playing the concert full volume as well. I was captivated, the Dead had taken over the city and everybody was celebrating, we were all Deadheads. It turned out the concert was being broadcast live by KSAN, the groundbreaking countercultural rock radio station. Back in the UK we would have to wait for Band Aid in 1984 for a musical event to take over a city like this.
I was disappointed not to be at the actual gig, but in many ways this was even better, seeing the music being celebrated in the streets. And there was another side to this (whisper it) – I was not a big Grateful Dead fan. When I first heard about them I was expecting an amazing acid freakout rock band, maybe like the MC5 with better songs. It turned out they were a polite folk-rock band that just chugged along for a very long time. I wanted bands to be funky and then catch fire, be rude and have some urgency, or at the very least play fast enough to dance to. So the local band I really liked was Santana, who I had fortunately already seen at the Liverpool Empire back in the UK, and they had been magnificent. To me the Grateful Dead were like an American version of Fairport Convention, but the Fairports had a better singer in Sandy Denny. That's not the end of my Dead story, but suffice to say here it was an enjoyable evening, the concert finished and everyone went quietly home, it was a Sunday.