After a good early breakfast we set off across the Rockies. Now that we were sharing the driving Frenchie seemed in a better mood and I felt I was earning my keep. The scenery was spectacular as we carved through the mountains arching over us, but we were soon down to a single track road in many places, and the weather started to close in. Also as a driver you had to contend with massive 10-wheel trucks, sometimes with trailers as well, so I steered well clear of them. The rest of the time it was pretty quiet, I could have been in the Scottish Highlands.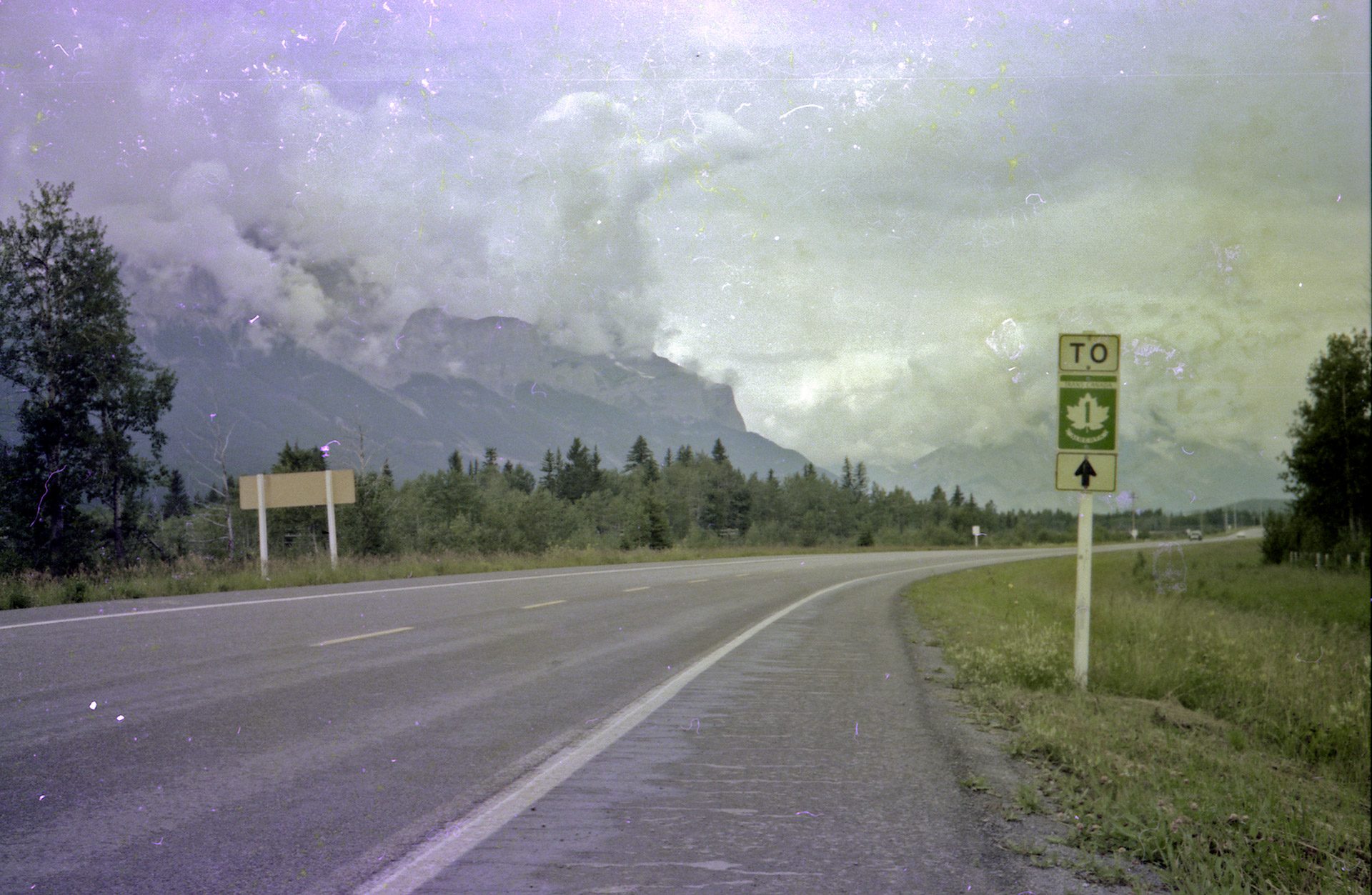 After passing the massive Lake Louise skiing resort we continued down a wide valley between the peaks through Banff, and then out of the Rockies to the slowly descending plain leading to Calgary.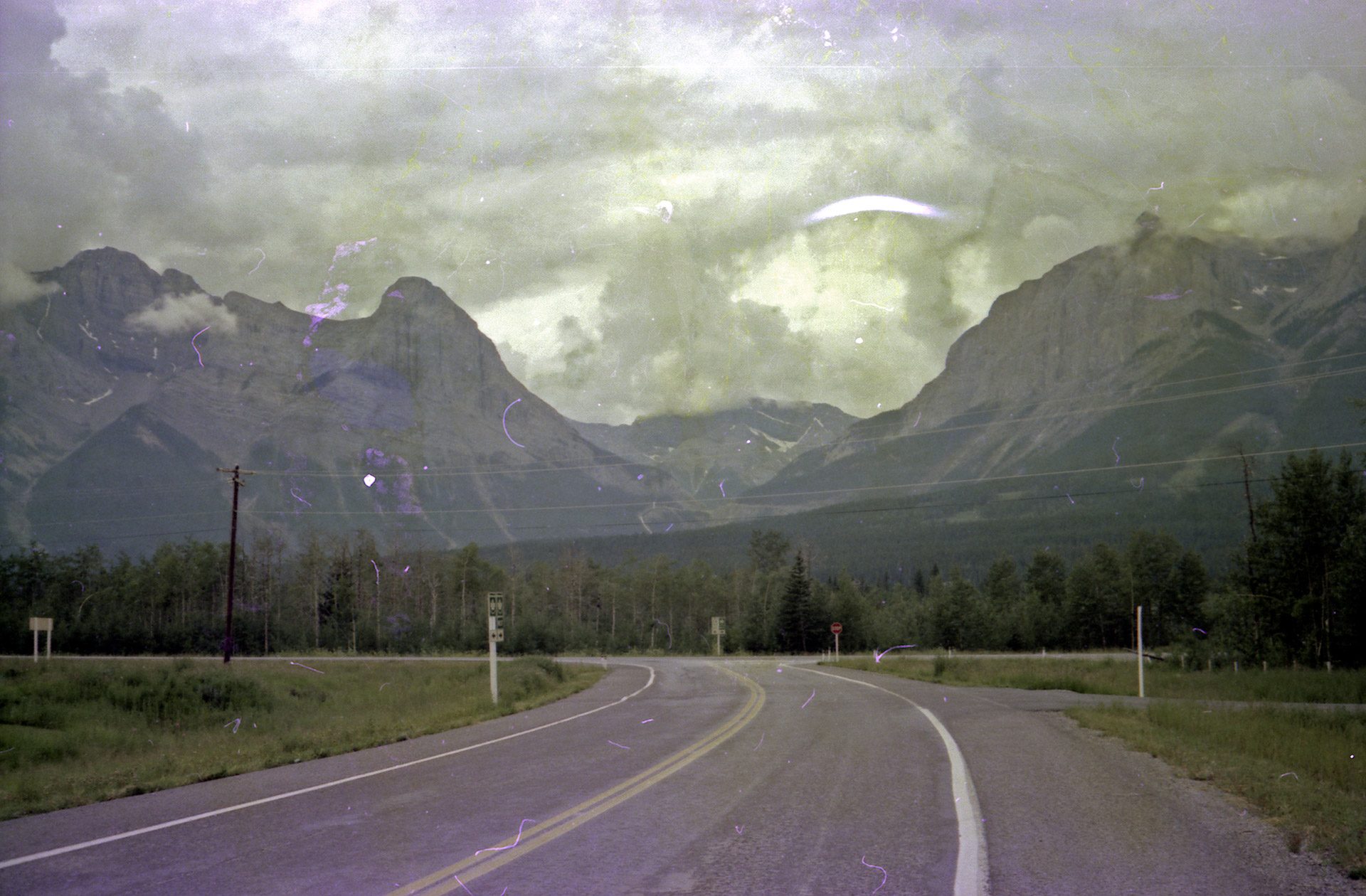 With the rain now pouring down our first mistake was not to stop in Calgary for some R & R and gas. Maybe Frenchie didn't have a macintosh, he didn't seem to have many clothes with him, so we ploughed on through the puddles. In front of us stretched the apparently never ending flatlands of Alberta and Saskatchewan, slowly drowning. Now when I say flat I mean it, this place was flat as far as the eye could see, this was Wheatland County, one of the world's great breadbaskets. The only recognisable item on the horizon for hundreds of miles was an occasional oil pump jack slowly tipping back and forth. They weren't recognisable for long though, the windscreen wipers started playing up to the point where slowly all vision was lost as the miserable rain continued to fall. We pulled over for some emergency repairs, swapping over the wiper blades so we could see out of at least half the windscreen.
On and on it went until the next crisis, we were running out of gas in the middle of nowhere. I did pass a gas station which suddenly popped up out of the mist and spray, but Frenchie hadn't seen it either and whoosh we'd missed it. This was before we realised how far the next one would be and panic started to set in. Evidently running out of gas would be a major catastrophe, we might even have to ask the Highway Patrol aka the Royal Canadian Mounted Police for help. Would we reach the next town, Medicine Hat?
I am pleased to say we did, but that was not the end of the story. I turned the wrong way down a one way street to access the gas station, I was obviously keen to get there. There were some mitigating circumstances in so far as I only went about 2 yards down the one way street, the ramp was on a corner, and there were a multitude of confusing and foreign signs at this junction. In addition there were no cars nearby and nobody noticed, except Frenchie. Nevertheless the fault was mine, I tried to apologise, but my driving days were over.
Our faltering relationship never recovered, I had blotted my copybook and might have attracted attention from the authorities. I thought he might throw me out there and then, but we silently got back in the car. Whether through anger or plain obstinacy Frenchie drove all through the night to Winnipeg, over a thousand kilometres. I dozed fitfully and in the morning Frenchie told me he had changed his plans and was no longer going to Ottawa. It seemed like the best way out for both of us, although I didn't believe his story this time either. He was to remain forever an enigma. I hope he recognised how valuable our mutual arrangement had been, I had been his chauffeur and cover man, he had looked after me and given me one of my longest rides ever. At least that was how I justified it, I had no idea what he thought.
* * *
Frenchie (named by me after one of the villains in The French Connection) had unfortunately misunderstood one of the basic rules of hitching, that there is a code of silence and acceptance, a hitcher's omertà if you will, which allows for any transgressions of social norms to be suspended during the journey. As a hitcher you are not there to make judgments, you cannot police who picks you up, you only have the right to be dropped off when you wish. It is the hitcher's responsibility to relate to the driver and attempt to get along with them. Whatever their political viewpoint or social standing, you are in their debt. One of the strangest lifts I ever had was from Liverpool to London with a hardened East End criminal. The dawning realisation that I was dealing with such a man was initially frightening, but we ended up having a beer at his local in Bethnal Green. It was a fascinating lift and I never wanted to meet him again.