Wake late and wander round the city, taking a photo of my favourite skyscraper from Lexington Avenue. The Chrysler Building is what a skyscraper should look like, with its art-deco tiered crown. and indeed it is the favourite at the Skyscraper Museum. When it was built in 1930 by William Van Allen, it was also briefly the tallest. This is the epitome of New York.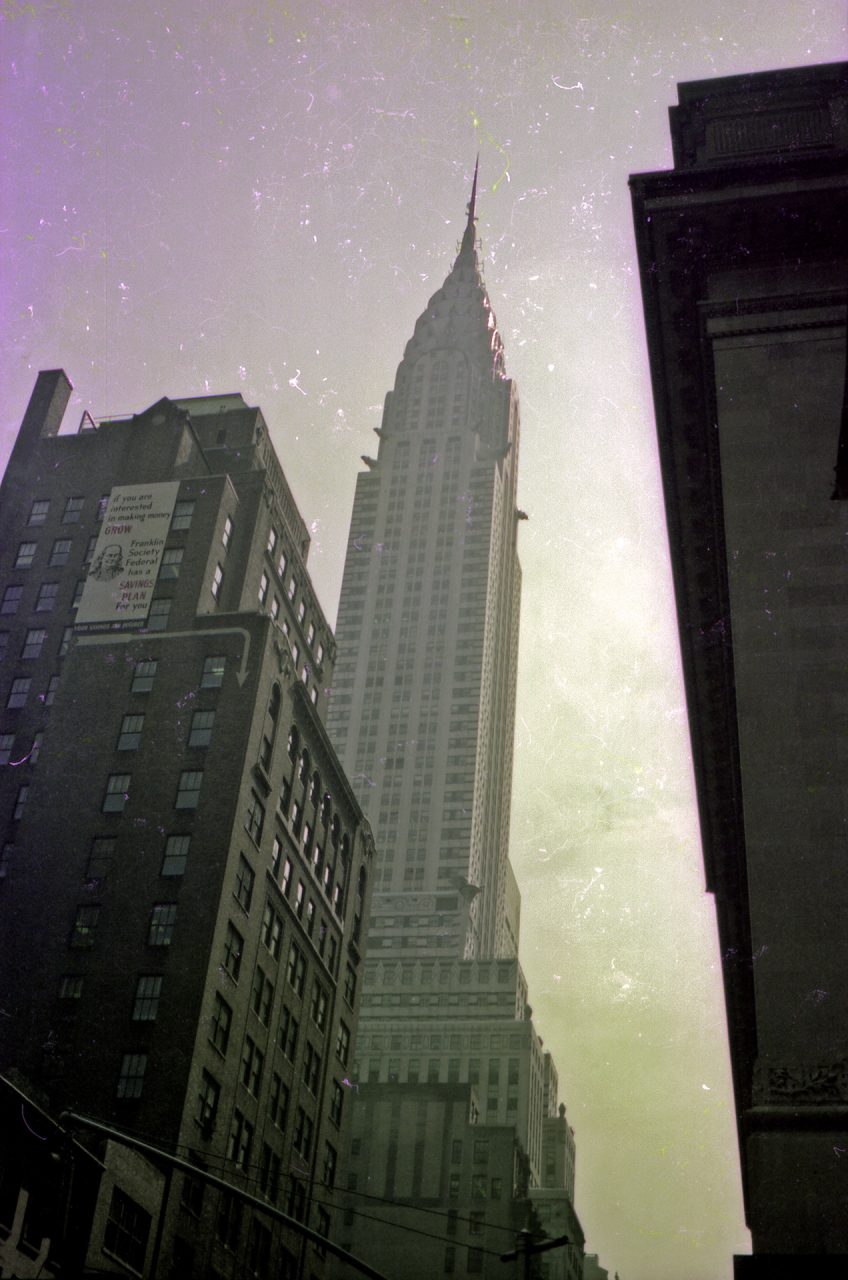 A long walk to the Metropolitan Museum of Art by Central Park, but being a Saturday it is closing early and not worth visiting for a short time. Instead I visit Burger King and discovered their Whopper was marginally preferable to a Big Mac, with better quality salad.
The main event of the day is a visit to CBGB's down in the Bowery. This legendary club, Country Blue Grass Blues, was the home of many great punk era bands including The Ramones, Patti Smith, Blondie and Talking Heads. In America if you walk a few blocks in the wrong direction you can easily end up in the wrong part of town, the Bowery definitely fits the bill here. The decrepitude of the buildings and the skulking inhabitants made a fast walking pace, eyes straight ahead, seem a good idea. Nevertheless, compared with my initial visit many weeks ago, I now felt I could walk anywhere without compunction; I had earned it and now I owned it.
The club itself was the epitome of grunge, punk and underground, it was the über rock club. I should say now it was a privilege to be there, I later bought the T-shirt and wore it with pride. Passing the neon beer signs above the bar, every surface was covered in stickers and graffiti, that is tables, walls, stage and urinals, like the place was infested with the spirit of a crazed Jackson Pollock. The gents to the left hand side of the stage was the first room I had seen covered in graffiti floor to ceiling, and the flush toilets were just there, no doors, public. I used the urinals.
After an anonymous blues band we eventually had The Shirts, a six piece art rock band, with a petite front woman, Annie Golden. They were a tight and professional band who would later sign to EMI Harvest and have hits in Holland, but they were too power pop to be genuine punks like The Ramones and not angular enough to bear comparison to Talking Heads. I enjoyed their boisterous and song packed set, but I had seen all this before. It was great just being there, talking to the sound mixer and having a few beers, hoping to see Patti Smith or Debbie Harry hanging about. Impressed by my visit I of course bought the souvenir album Live at CBGB's, lovely vinyl records (it was a double album) in a thick cardboard sleeve, with none of the famous bands, as listed above, appearing on it. It sounded like a bootleg, that is awful, so after playing it once I sold at a premium collector's price. I wish I had kept it.
I made my way carefully if drunkenly out of the desolate area, clutching my 12" vinyl. I was relieved to be in the city that never sleeps; the subway has always run 24 hours a day in New York, and I was soon tucked up safely in the Hotel Woodward.