I was pleased to be in Winnipeg, since my father had trained there to be an RAF navigator in a Lancaster bomber during the Second World War, so I felt a connection. The city though seemed uninspiring, very low rise like an overgrown ranch town, and the Main Street, or at least Broadway, was part of the Trans-Canada Highway, the bypass yet to be invented in Winnipeg. This made life simpler for me though, so I just continued hitching straight from the centre of the city. Soon got a good lift from Ben the oilman in his cool motor, a Chevrolet Nova Sedan.
It was a great relief to get a lift from someone normal, and Ben was properly apple pie normal. He had been working up north and was on his way home to his parents, near Vermilion Bay at the start of the Great Lakes. I think we were both relieved to have someone to chat to and we covered a lot of ground in a lighthearted fashion. We got on so well that he invited me in for a meal and a few beers, and though normally I refuse these offers as a distraction from the hitching, I was starving, having eaten nothing since the previous day's breakfast. I entered the house to a slight amount of confusion from his parents, like what is this unkempt English hitchhiker beatnik doing with our nice sensible son, but Ben just ignored it all in his jovial fashion. They were exemplary in their hospitality, but I think you can still see a disapproving look from his father as they lined up for a parting photo, at Ben's request.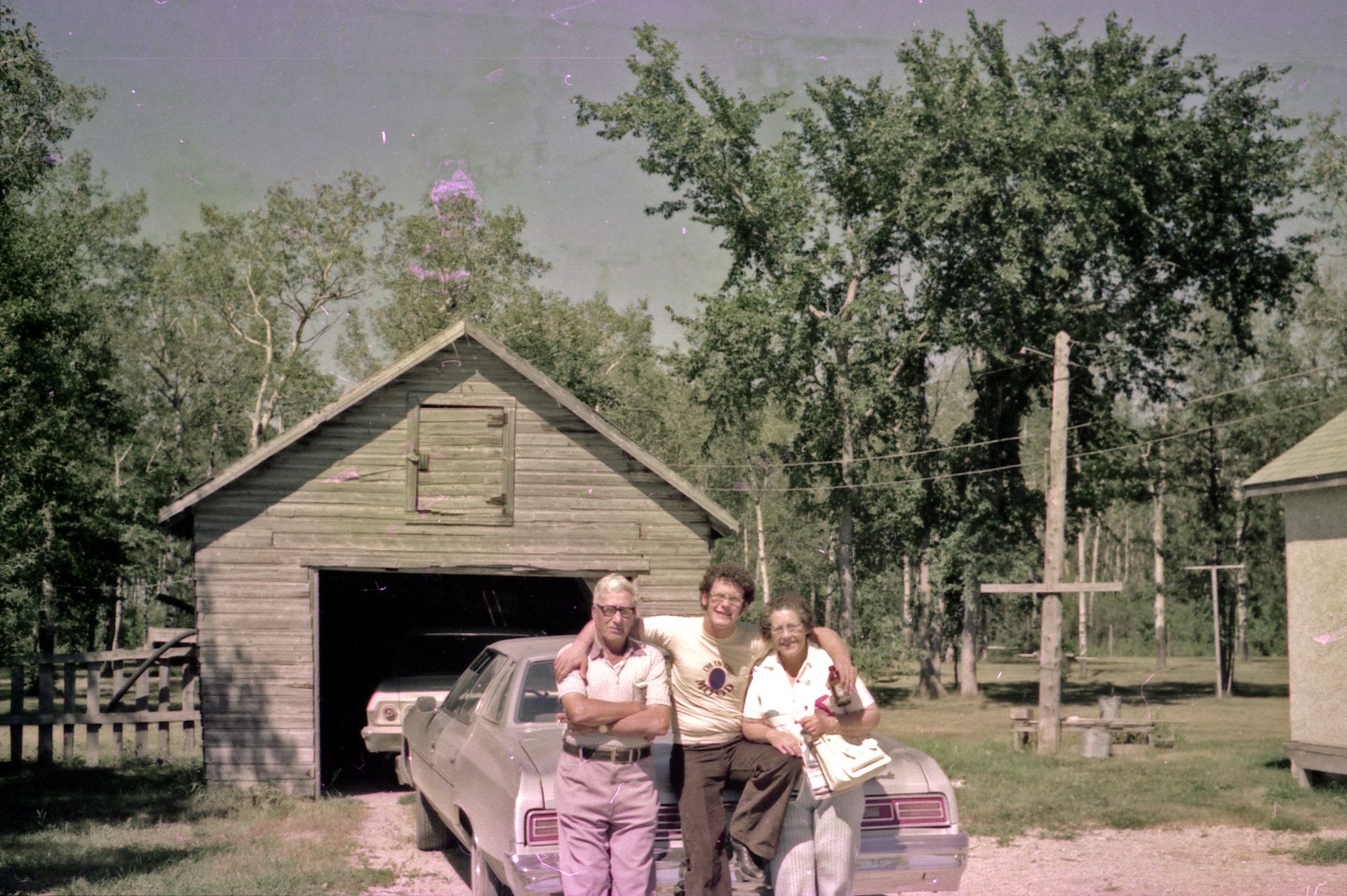 A short lift to Dryden from two rockers in their pickup, playing loud music, so we discussed Bruce Springsteen and Neil Young. The smaller guy had a bandana on and so reminded me of Miami Steve Van Zandt aka Little Steven, who played in Springsteen's E Street Band. He talked like I imagine that guitarist does, garrulous, funky and dirty while Big Brother the driver, a huge bearded man, sat there providing the feed lines for him. Enjoyed the jesting, sorry they weren't going further.
After some waiting I got a lift from a family in a Dodge Sportsman, a camper like a VW Dormobile, and we sat round the table in the back. It was very relaxed and friendly, but as dusk fell we saw another hitcher in the middle of nowhere, looking a bit abandoned. I personally thought one hitcher was probably enough, but they generously picked up this slightly bedraggled gypsy girl. She had an attractive sharp elfin look and said she had recently come from Toronto, but had been on the road for three years. We soon discovered that she had it in for everybody, starting from the premise that the world was stupid. Talking softly but firmly she then proceeded to restructure society as we knew it, as a never-ending stream of cod philosophical aphorisms poured out of her, not all appropriate for the young family in the van. She raised many interesting points, however this was not a discussion, but a rant of epic hippy proportions. These were among the pearls of wisdom I noted down:
The world is stupid.
I don't come from anywhere.
Why keep on travelling? – There's nothing else to do.
I want to be a professional robber or gambler.
There's no difference between men and women.
If you say lady then you're a lady.
No two people have ever loved each other.
The world is going to be bombed.
I believe we can get to another planet.
I'm looking for human beings.
There is no such thing as fear.
Our levels of befuddlement slowly rose: were we dealing with a savant, a serious drug taker or the early stages of a psychiatric condition? Any attempts to reason with her were talked down, she was out to re-invent life and if that meant heading for another planet because we had messed up this one, then so be it. Well I could agree with her on several points, but was not prepared to choke on the whole package. This was not good enough, why didn't we get it, she needed to meet some human beings…

Darkness had closed in and when we arrived in Thunder Bay the tolerant family said they were headed south to Duluth, so I left them with the cuckoo hitchhiker, thanking them for the ride. Rather them than me I thought, rather selfishly. I wandered north out of town looking for somewhere to pitch my tent, it was very dark and the town was bigger than expected. Finally I spied a field far enough away from the houses, put my tent up and slept soundly, counting humans.