To get a good start I awoke early, David giving me a lift to the Highway. Echoing round my head was the John Lennon song New York City, a rocker recorded with the Elephant's Memory band in 1972. At the time I believed Lennon was singing "Get Back to New York" in the chorus, which seemed appropriate. In fact he is singing "Que Pasa New York"; fortunately I didn't know that then. So I had my mission and initially all went well, travelling fast on the Interstate Highways 295 and 95 down to Boston. I wanted to avoid Boston itself, so I was pleased to get onto the Massachusetts Turnpike, headed inland to Albany. However this was a toll road and as a hitcher that made me feel uncomfortable, having fewer junctions and chances of escape. My reservations were correct, because when we arrived at the junction with the New York Thruway there was simply nowhere to hitch, the traffic never stops, nowhere to get out. I started heading north in the wrong direction, so I said just drop me off wherever you can. I found myself at a big cloverleaf junction, connecting to a very quiet local road. I walked through the underpass so I would be going in the right direction and realised I could be there at the on-ramp for hours, there was no traffic entering the Interstate. Having seen a No Pedestrians sign I guessed it would be illegal to hitch on the Interstate itself, just as it was on motorways in Britain, but I felt I had no choice. I took the risk and sure enough a police car turned up. Here comes a fine, if not worse I thought. I explained the situation, pleading ignorance and foreignness. Jump in the back they said to my surprise, we're going down the road to a better junction anyway. Great, now I was hitching with the Highway Patrol! I swore blind I would never hitch on the Interstate again.
Where they dropped me was better, but not much. It took me some time to figure out the right direction and I decided to avoid the NY Thruway, even if it meant going back on myself. I considered my options and was soon back hitching on the Interstate, the on-ramp here had a bigger run-off and I stood kinda at the end of it, so I could be seen by the traffic. I kept my eyes peeled, and was ready to  run off into the bushes behind me, if need be. Soon I did get a lift and was on the Taconic State Parkway heading to NYC, not as fast as the Thruway, but remarkably scenic. At a picnic area I got my last crazy lift from 4 students, they were thrilled I was British since they loved Heavy Rock. They played some Led Zeppelin and I said they were one of the best bands I had ever seen, at an epic three hour concert in the Liverpool Stadium. Some strong dope was produced, hilarity ensued, the Parkway was indeed like driving through a landscaped and manicured park and I wrote this stoned note.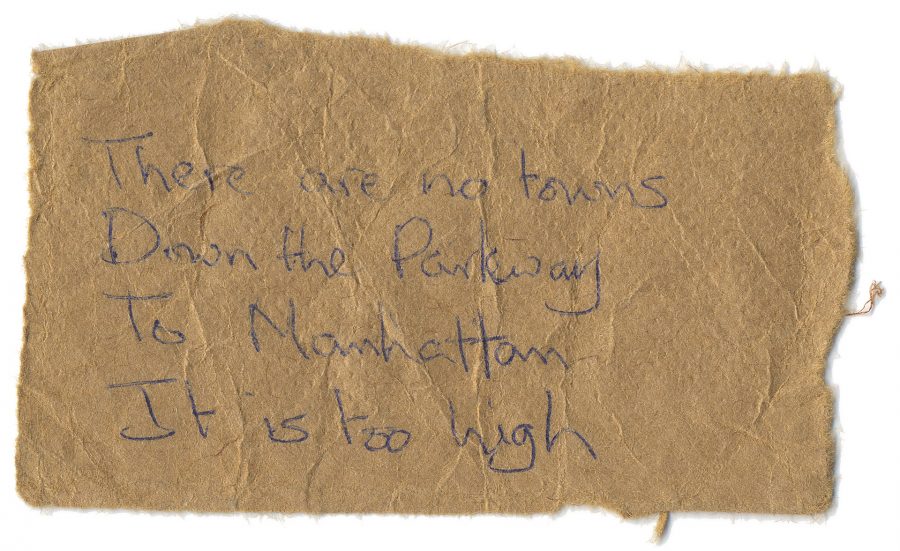 However they were serious about their metal because then I had to listen to the whole of Black Sabbath Volume IV. The heavy riffage does go on a bit and I hadn't seen Ozzy Osbourne and Co, so I retreated to just being the quiet passenger, the hitcher. They probably wouldn't have heard me anyway, that music was played loud. We thundered down the Parkway to Yonkers and then I got another lift taking me right into Manhattan. This guy had a CB Radio in his car, which were usually used by truckers, and were very popular before the advent of the mobile phone. Citizens band radio was often used to spot radar speed traps and exchange local traffic information, and had its own specialised slang as heard on the hit song Convoy. Long before the age of Twitter and Texts, he was constantly updating the situation, as squelchy distorted audio beamed into us. As previously related we drove right through Harlem, doors locked and windows up, with street life pouring out of the tenements onto the sidewalk, the confusion of dynamism and poverty telling me we were back in the Big Apple.
I had ripped some pages out of a Where To Stay USA guide book on my travels and so I went straight to the International Student Centre at 38 West 88th Street, catering just for foreign students. They said their own small hostel was full, but they had a USIT dorm off Broadway which had just been vacated, since it was the end of the season, costing $3 a night. Sounds great I said, I'll take it for a week. The Hotel Woodward at the junction of West 55th Street and Broadway was indeed great, I was in a 30 bed dormitory and the only person there! There was a little desk staffed by friendly Indians at my side entrance, so I could come and go as I wished, and while seedy, spooky and not very secure, the location was ideal.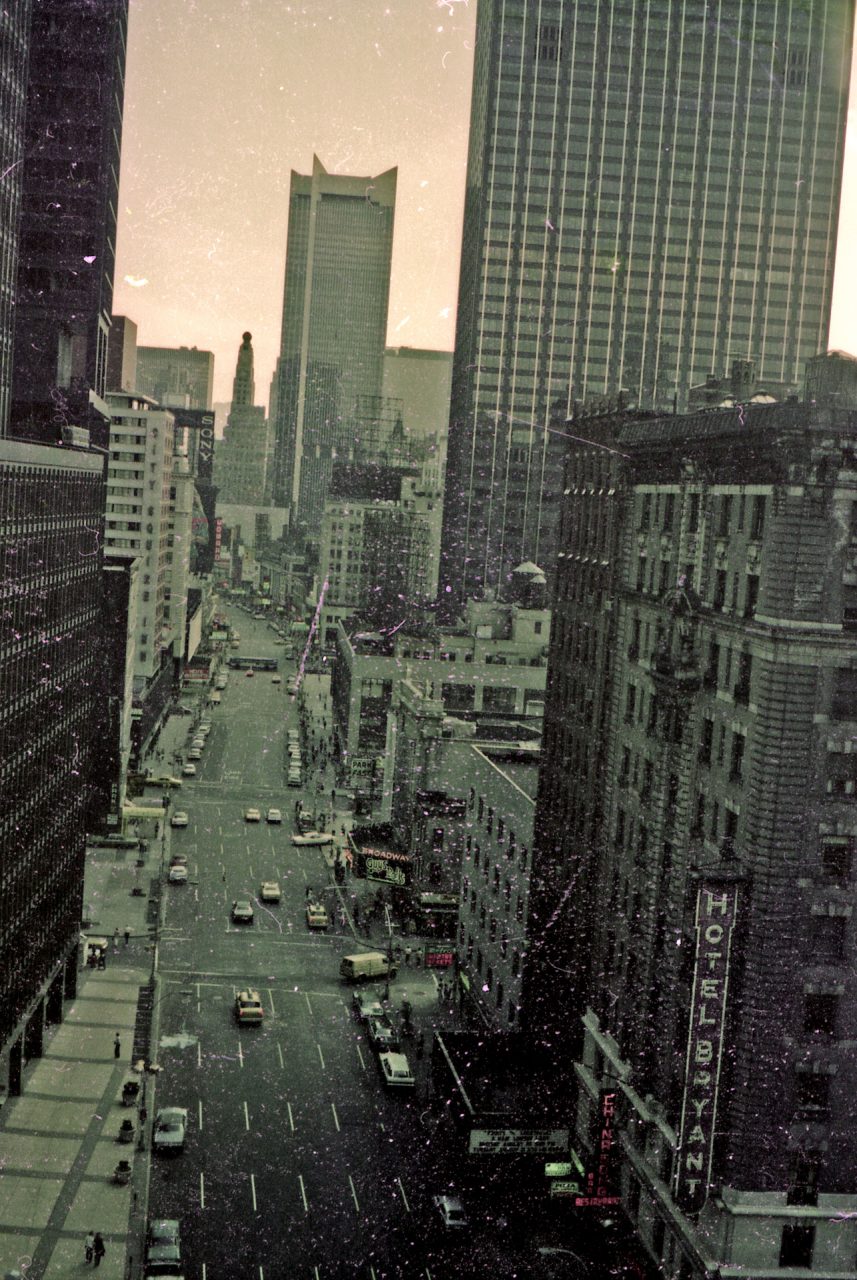 There was a feeling of elation and victory. Finally I could relax and enjoy New York, I had arrived there 60 days ago in trepidation and now I felt ready for the experience, every nook and cranny was open to me, I had no agenda, fear was just a figment. The hitching was over.